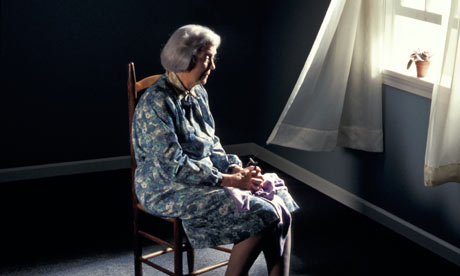 After reading "The Barking" by Ingeborg Bachmann, I feel kind of sad for the old woman, Frau Jordan, who had an undutiful son and did not have close family members to live with her at such old age.  I think the living attitude old Frau Jordan held was very common to elders in the society today, because the elders in my family also sometimes act like old Frau Jordan.  They always would think what benefit their children instead of thinking what are actually good for themselves. Sometimes, they hide their sickness and act like everything is fine.
I understand they do not want to give more burdens to their children, but I do not think it is a right way to release burden from their children, especially health problems.  If an elder was sick without notifying his/her children and suddenly died one day, the children might just cannot accept the fact so suddenly and become stress more than ever. Also, it is children's duty to take care their parents when their parents get old.Also, old Frau Jordan depends on her only son so she did not want to give additional stress to him. She thought it is better not to bother her son and better not to tell him anything, which led to misunderstanding between her and her son.
I think the title "Barking" is very meaningful. First, it shows one theme in the short story which is lack of communication. Few years before old Frau Jordan died; she lived in a house surrounded by dogs' barking instead of the laughter of her family which shows her loneliness.  It is like the communication that she heard the most was the barking from dogs. Also, when Bachmann described the barking story from "great, wild, triumphant howling to a whimpering" at near the end of the story, I feel there is a foreshadowing of the health of old Frau Jordan. Like the barking, old Frau Jordan was becoming weaker and weaker and near death.
One Response to "Elders care about their children while children neglect the elders"
Cheryl Smith Says:
May 4th, 2012 at 8:25 pm

This is a terrific post, Wai Hing. I find your exploration of the barking as a symbol for communication (or lack thereof) as so interesting!
Leave a Reply
You must be logged in to post a comment.